What causes a space, for example, a living room, to be of a modern cut apart from its architecture? The furniture and ornamental elements that constitute it, right?
The same thing happens in a bathroom. It is the toilets, furniture and other components that are needed that make the bathroom acquire one style or another.
For this reason, if you are going to reform or create your bathroom from scratch and your purpose is a modern, contemporary bathroom, apart from a careful decision of materials to cover the bathroom walls, you need toilets, such as the shower, furniture and others items you install are correct.
And in this sense, I have loved to catalog in the article certain latest trends of those elements that I have just named so that you are every day of the much more of today to update your bathroom.
In this way, if you want a modern bathroom, take note, I will tell you the latest of each. We begin.
Sanitary
ROCA Gap wall-hung toilet for sale at Materiales De Fabrica
For years in this part, hidden or embedded cisterns have been gaining followers and, today, in a modern and modern bathroom, it is found among the essential elements attached to the sanitary ware, both suspended toilet and bidet.
By hiding the cistern, embedding it in a false plasterboard wall, and also installing a suspended toilet, we make the bathroom look much «cleaner», defined and uncluttered.
Even if your bathroom is small, closing the cistern is an aesthetic exercise that will favor it, since it eliminates unnecessary elements and the space seems much faster. Feeling that is capacity with the addition of the suspended toilet. Another addition is that cleaning and caring for it is considerably faster and more comfortable than that of a regular toilet.
Thus, whether you are renovating the bathroom or building it from scratch, if you want it to be up-to-date and have a modern aesthetic, bet on embedded cisterns and suspended toilets.
Let's move on to the next ingredient.
Showers – Shower trays
Extra-flat shower tray in Nudespol resin in graphite from Materiales de Factoría
Although I am a huge fan of bathtubs, I must admit that from the moment it became a trend to change the bathtub for a shower tray, showers have undergone a great aesthetic and practical revolution and have conquered the whole lot to bathtubs , since each time they were becoming much more practical, much more useful and much prettier.
In this sense, if you bet on a shower instead of a bathtub, the latest trends have a clear ingredient at the forefront of the avant-garde: floor-level dishes.
Thin, ultra-thin shower trays, which can be arranged at ground level or on the floor, creating continuous spaces with no type or minimal interruption between the bathroom floor and the shower.
Apart from removing a small but insignificant step in the bathroom, the sense of continuity that these shower trays give causes that the spaces, although small, are fast and fluid.
In truth, it is in small spaces where these shower trays prove their power.
Going deeper still, the latest trends in shower trays not only opt for slim or floor-level shower trays, but rather for those that also have an organic aesthetic ingredient.
This means that, at this precise moment, the latest shower trays imitate or are made with natural materials such as stone, such as slate, marble, grain or imitation of cement or concrete, among many other "natural" materials. ".
To synthesize and knowing the proposal that you are looking for an up-to-date bathroom, when it comes to shower trays, focus on the slimmer shower trays that can be arranged at ground level, and of nature or imitation. organic.
Showers – Screens
Factory Materials Concrete Free Shower Enclosure
Beyond the fact that the shower tray is a factor that can mark a before and after in a bathroom, it is much more so if our screen fits. These, like the shower trays, have undergone spectacular changes from the old screens with thick aluminum concretes to the screens with an ultra-refined aesthetic of today.
If I had to bet on a model to have in a bathroom where what you are looking for is a modern environment, I have no doubt which one I would choose: Bath screens without profiles or with minimal profiles for a minimalist aesthetic and with minimal interruptions.
And it happens that you can meditate that the screens with black and metal panels are the latest in screens due to the huge proportion of photographs of them that we observe in communities such as Instagram or Pinterest, but truly the latest sacrifices of developers and designers have the focus. in removing the profiles, these being the ones that win the prize and the ones that I suggest you see or find out if you want a very modern bath.
As with the rest of the elements that we see, it is in small spaces where you can really see how well a screen works without concrete or with minimal profiles.
When removed, the partitions are a practically invisible factor that does not become important because it is devoid of the usual ugly concretes and annoying sliding door systems that always and at all times end up jamming.
In relation to partitions without concrete, there is a planet of options, depending on the type of shower you want or the free space. Consult with your interior designer or site manager and they will advise you well, as not only the fixed partitions such as the one we observe above these lines have been developed without concretes.
Today we can find this design in square, folding, sliding, or even semicircular partitions.
Let's continue:
Bathroom furniture
Bathroom cabinet and washbasin from the INSPIRA compilation by ROCA
Bathroom furniture there are many, many as you well know if you are in the middle of a furniture reform and decision. But here I am focusing on the latter.
For this reason, in all the vast plurality that there is, the latest trends in bathroom furniture are directed towards the utility of the furniture itself, making it fit any space. The bathroom furniture today is chameleon.
A few years ago, and not several, you could locate a beautiful bathroom cabinet from an exclusive compilation. But that bathroom cabinet had to have a specific sink and it was not possible to play far beyond the colors and finishes of the cabinet.
The evolution of bathroom furniture was aimed at greater customization and adaptability of the furniture in the different bathrooms.
To give an example, among the latest compilations of the ROCA firm is the INSPIRA series, which is composed of three forms, with which we have the possibility of making multiple compositions thanks to the sink and furniture, since they are free in 3 lines of design: Round, Soft and Square.
These three lines, to begin with, are completely combinable with each other. Achieving multiple compositions of bathroom furniture.
In addition to this, the three lines are free in three different finishes, which in this case are City Oak, Fumato Speculum and Glossy White.
All this causes that, between the furniture design line, the different free finishes and the option of also being able to add different sinks to the personalized furniture, we have a colossal range of options to completely mold the bathroom furniture to our bathroom, without adversity.
Let's look at another essential ingredient:
Specula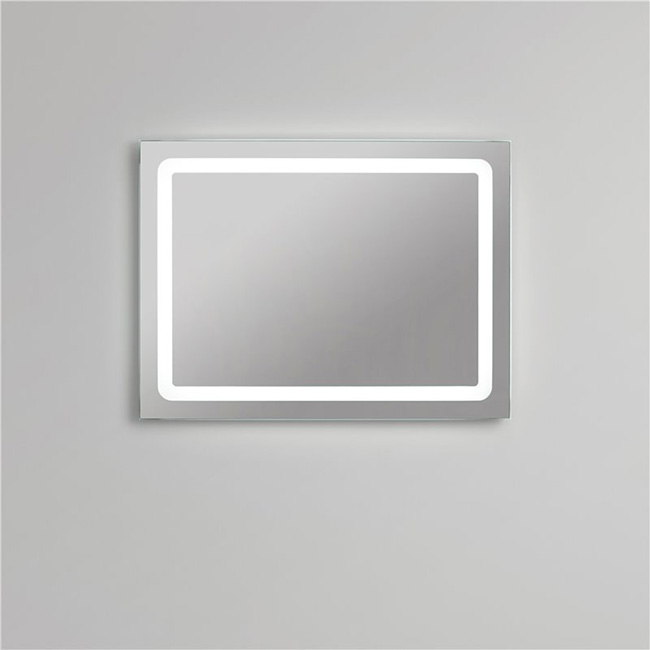 Bath speculum with light inside BathDecor for sale at Factory Materials
Like the rest of the elements that we see, the bathroom specula also form a colossal range of options: Built-in, with frame, round, wall, square or rectangular and add and continue.
But above all, that not better, but rather much more modern, are the capable specula with lighting inside our speculum or backlit, which still integrate Bluetooth technology to be able to perceive music through its integrated speakers.
And not only that, these specula also include:
Infrared Sensor. To turn on the speculum by putting your hand together.
Tactile regulators. To increase or decrease the intensity of the light.
Option to select between different lighting. (Warm, neutral or cold)
Anti-fog plates.
Increase speculum that comes inside.
And the system of speakers and Bluetooth, which mentioned above.
Naturally, in the category of these ultra-modern specula, we have many design options to choose the speculum that best suits the style of our bathroom and our wishes.
We have round, square specula, with rounded tips, with backlighting, with incremental or ultra-minimalist specula with completely refined lines, among many other models.
Mentioned the above, and following the product line, are these specula on which you have to inform yourself to find a completely modern look and design in your bathroom.
Wall coatings
3D PVC cladding from the Grosfillex Ámbito Blanco compilation
Apart from each and every one of the elements that we saw in the entire product, in order for your bathroom to turn out as you wish, a very modern bathroom, the walls must be wrapped in harmony. It is the shell, yes, but it is also the base on which it goes to support everything you add later.
With the foregoing mentioned, I must admit that here we enter a somewhat ambiguous and very subjective lot, since even with the subway tiles that are decades old, you can get a very modern bathroom.
Although, of course, coatings also have trends and news, and one of them, rarely, is high definition PVC coatings, such as the latest adhesive tiles and coatings from Grosfillex.
These simple-to-install coatings are available in a huge range of finishes that imitate all kinds of surfaces to achieve covering the bathroom walls as best we want.
From white 3D models as we can see above these lines, to slabs with wood finishes of different tones, to make warm and pleasant spaces, passing through models with stone or concrete finishes for bathrooms with the latest inclination, or even much more exotic materials such as reclaimed wood or geometric tile.
And all this without doing minor or major work, since these high definition vinyl pictures are adhered through a particular adhesive that, depending on the model we choose, will be self-adhesive or we will have to use it ourselves.
Let's go on.
Faucet
Imex matte black built-in bathroom faucet for sale at Materiales de Factoría
The taps are the icing on the cake. It is the special auction. A bathroom where even the smallest aspect is protected is the one that truly makes the difference.
In truth, you can practically ruin everything you have achieved with the rest of the elements if you do not take care of the small data such as the taps.
In this sense, there is a clear inclination at this precise moment when it comes to bathroom taps: Matte finishes.
Whether in white or black, the shower and bathroom taps in a matte finish, at this precise moment is something that has a lot of pull, and it is where the developers have headed in recent years.
Honestly, it is an inclination that I do not know if it will survive long enough, while the usual chrome finishes will continue to be prominent and will always and at all times be in demand, apart from the fact that these mix with everything, in contrast to the matte black and white finishes that must be carefully combined.
But if you are looking for something totally modern to finish off your bathroom, I cannot stop emphasizing this genre of taps, and even more so if it is embedded.
With these elements that we have reviewed in the article, I can guarantee that your bathroom will be absolutely up to date. That's what you want, right? I read you in the comments.