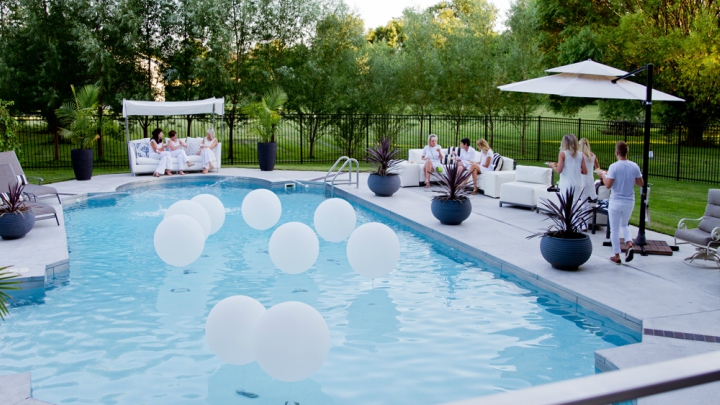 We are in the middle of the season to enjoy the outdoor spaces of our house. If you are lucky enough to have a garden with pool, or without a garden, but a swimming pool, surely we are in your favorite season of the year, since few things are much more refreshing than enjoying particular moments in this place. Fleeing the heat around the water can also be done with style, hence, today we reach you multiple ideas to decorate this space and find designing a region with personality where you quite want to be. We will see how to achieve it!
Umbrellas, awnings and pergolas
To avoid the incidence of the sun in the pool area, it is essential that you locate an umbrella, an awning or pergola to make shadows and avoid the heat. This will also help you customize this space since you can play with the colors and fabrics selected and, in the situation of the pergolas, it will help you to limit the eating area, for example.
Sofas and cushions
It exposes a space for the relax. It puts hammocks, armchairs, sofas and cushions with natural and fresh fabrics and summer colors to achieve a very comfortable design and enjoy pleasant moments when it is not time to bathe. Near the pool, place some sun loungers to dry yourself in the sun the moment you get out of the water.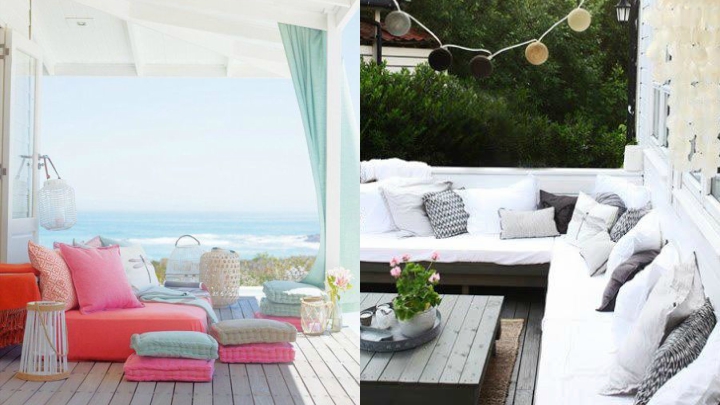 A space for plants
You can also reserve a piece of your outer region to put flowers and plants and offer a touch natural, fresh and colorful to your garden. There are many options for this, so look for the class that best suits the weather in your city, see if they are going to be very exposed to the sun and heat, if they are going to be in shade, and so on.
The lighting
If you are one of those who have a good time in the pool on summer nights, you will have to pay particular attention to the lighting, which is essential for safety but which, in addition to this, will help you to personalize this site in a particular way. . You can use spotlights, lanterns that give a warm and soft light, and there are even floating lamps to put in the water and with which you will be able to personalize the area creating an intimate and magical atmosphere.
A celebration by the pool
If you want to celebrate a celebration this summer, the pool becomes the most remarkable place to gather your friends or family. You can design a region for food and drink and play with the tones of the cocktails and our food to decorate the event; If you put some candles and some garlands it will be really beautiful and you can also integrate a space so that your friends can sit and chat with comfortable poufs, armchairs or hammocks with very colorful cushions.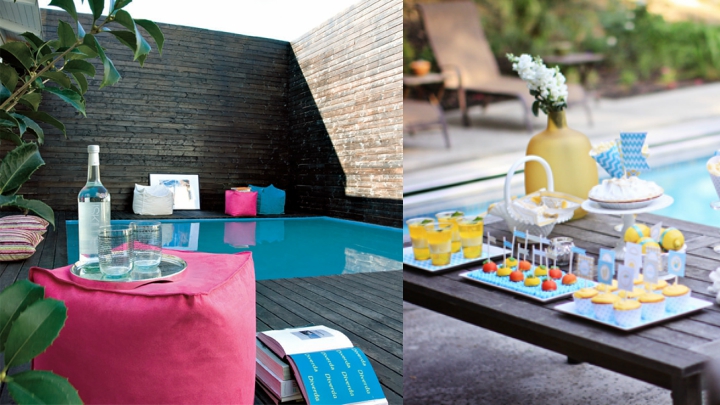 Floats
Currently even with a float you can decorate your pool. And it happens that if you opt for one of important size and with entertaining shapes, you will be giving a touch of fun, color and joy to your bathroom. The donut type are very cool, and you can also get a unicorn one. Surely apart from living a very fun moment, your pool gets a very particular air with these floats.
Much more ideas in the photo gallery
At this moment in the photo gallery you will see multiple ideas to offer a particular touch to your pool. Do not miss the color for this outer region, which you can enter through flowers or the textiles you use. If you have space for this, create distinguished areas to eat and relax, and bet on natural fiber furniture to offer clean and comfortable air to this corner.